Create the Best Graduation Party – with Andy Balloons!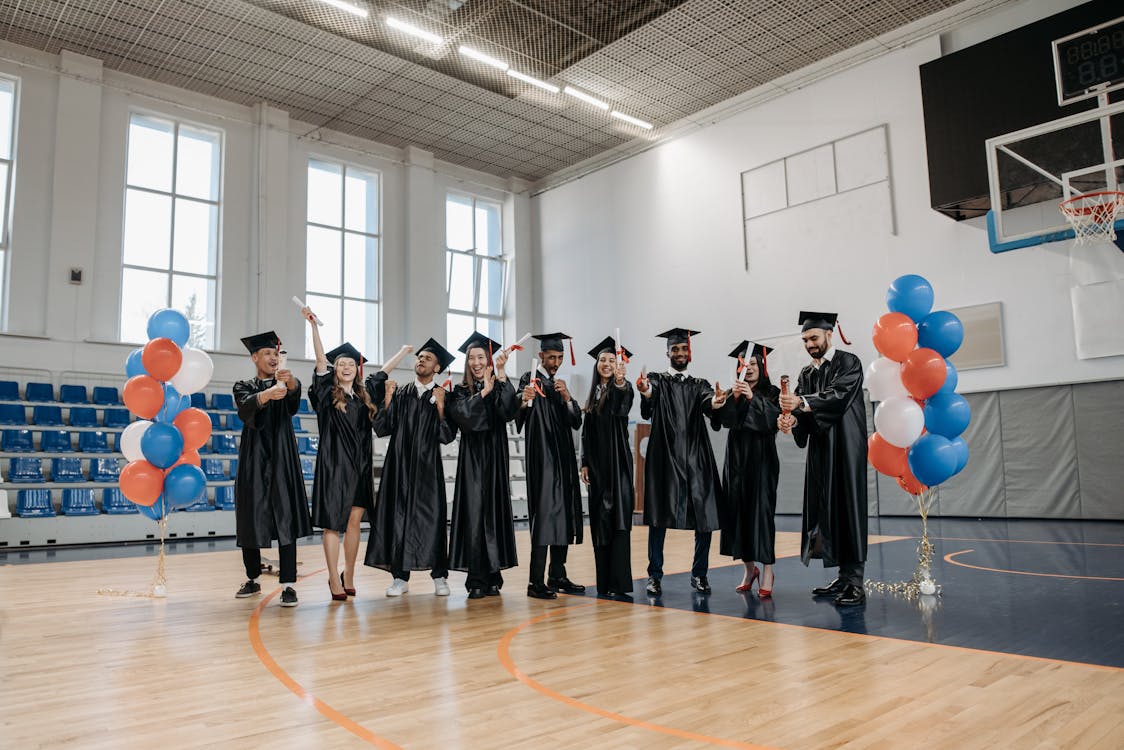 (Photo: Pavel Danilyuk)
A graduation party is one of the most unforgettable moments for students to remember. To most, it is more than just a celebration of academic achievement; it is a recognition of students' hard work, dedication, and perseverance to reach this milestone. All the hardships and challenges faced are what make the celebration a momentous occasion. So, let's get the party started!

The party can be held in a variety of locations, such as a banquet hall, a park, or at home. No matter where the event is hosted, it is best to have a classic custom balloon decoration to create a festive atmosphere. Nothing says congratulations like an impressive balloon arch at your party. Balloon arches come in many shapes and sizes, so you can find the ones that work beautifully with your preference.
(Photo: Amazon)

For starters, use event balloons to make an old-schooled "Class of…" letter sign in front of the entrance as an attraction for your guests. It is a great way to make a statement and create a fun and playful atmosphere for guests. The arch can be placed on a frame, a wall, or the ground for stability.

Another creative way is to include a meaningful message in your gorgeous balloon arches. For example, you could put the decoration in the corner if you run out of space. Don't forget to put cute balloon letter messages on post-its or sticky notes!

Blacks, golds, and silvers have traditionally been used as the primary colors in most graduation party decorations. But we can always add more colors to brighten up the party and make it more glamorous. After all, the future is bright, so why shouldn't your décor be too?
(Photo:
Andy Balloons
)

Modern graduation parties involve a wide variety of colors with not just balloons but props and tableware as well.

Make a graduation flag to commemorate your achievement. You can cut cardboard in a flag shape and design its wording. They make fantastic party favors, photo props, and fabulous decorations. Additionally, the party always comes with food and drinks. So, you can set up a colorful table for your guest to be mesmerized – maybe with a rainbow color! Set a stunning multicolor tablecloth and the rainbow paper plate with congratulations word on top. Match your napkins with the dishes, and your dessert table is ready. You could also make a balloon gift as a centerpiece on the table by tying the balloon to the basket of dessert or flowers. It's perfect!

You can create a budget-friendly graduation decoration depending on your theme, venue, and activities for the graduation party. Here are a few tips for creating a budget-friendly graduation decoration.
DIY balloon garland is one perfect way to add a spark to your party. They work both for indoor and outdoor decorations.
Make DIY balloon numbers – with your graduation year.
DIY balloon walls: they make an excellent background for a photo booth.
Put photos on balloon strings: They say a picture holds a thousand memories. Helium balloons also work for this type of decoration.
Since balloon price is affordable, they make superb decorations for several reasons.
There are different types of balloons, so that the prices can vary. So you could quickly get a lovely quality balloon at a lower price instead of the expensive ones, and they would still give you a festive decoration.
It takes less time to decorate with balloons, as they can be easily found in most convenience stores. You can search for decoration ideas and follow the steps. Easy and simple!
Your décor will look unique; since you can customize the designs in any way you like. While making the decorations with your family or friends, you can also capture the moment and keep the memories of the fun you had in the process.
With skillful teamwork and premium balloons available to order, Andy Balloons can be your go-to balloon supplier! We have experience in setting up balloon decorations for indoor and outdoor events. We were featured in Best in Singapore, being in the top 10 Best for Big Balloon Decors. Our staff will provide the best balloon guide for your upcoming events. Make your call now!
Check out our graduation balloons selections here: https://andyballoons.sg/collections/graduation

Contact us through WhatsApp at (+65) 8876 9977 for sales inquiries.
Visit our website at www.andyballoons.sg for more information.