Balloon Decorations with Love for Wedding Parties or Upcoming Events

(Photo: Álvaro CvG)
As little kids, we were always role playing in a husband-and-wife game for fun. As an adult, at some point in our lives, we start to think about marriages in a more mature perspective. A wedding ceremony is a beautiful and lovely occasion that marks the beginning of a couples' journey in life together. It is a celebration of unconditional love, deep commitment, and unity with mutual respect towards each other. A special moment that is filled with love, happiness, and promises like these calls for a special party to memorialize the intimate gathering.
Planning a wedding party takes a lot of time and arrangement. You must book the venue, hire a caterer, decide on the décor; all of these are to be reserved a few months in advanced. Whether you want to have a big or small party, these preparations are a must-have for your wedding decoration.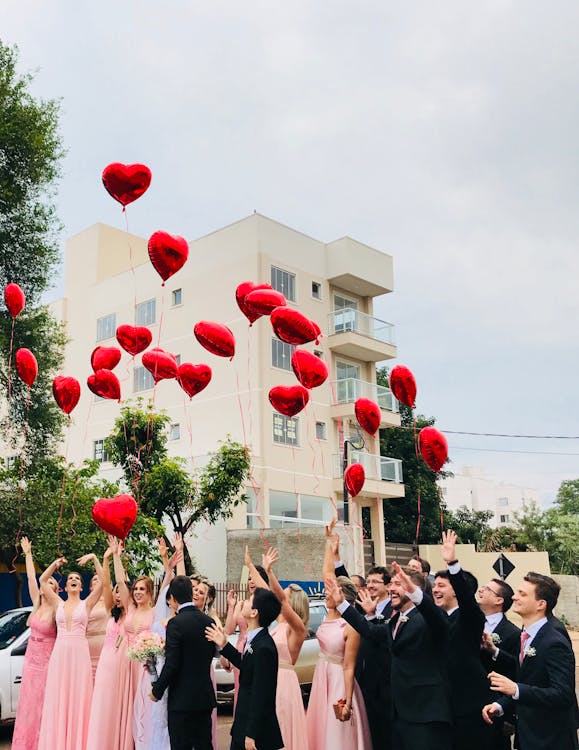 (Photo: Fernanda Latronico) 
Firstly, discuss with your partner on the theme, it can be anything to your likings, after all it is your party! After you have the theme, you can pick the flowers and balloon decorations to decorate your venue. Secondly, you would want to cherish this moment when you bring your relationship to another level of spending a lifetime together as you exchange vows in front of loved ones and your close friends. Hence, an invitation in needed so guests can be informed, and you can make arrangements in advanced. Lastly, find an elegance centerpiece to the table. Most people are stressed in finding the napkins that match the tablecloths, or with the candles they picked. You could also opt for a custom balloon centerpiece for a unique fun decoration on the table.
By adding color, fostering a playful environment, offering distinctive décor, and providing photo opportunities, balloon can liven up a wedding celebration and make the occasion even more memorable. You can think outside the box in being more creative with party balloons.
Here are a few ways you could use balloons in your wedding decoration.
Carry a Train of Balloons

: Take your photograph to a next level by posing with a bunch of balloons.

Go Bright with a Rainbow Installation

: Wow your guests with rainbow-color balloon arches right on top of the reception table.

Balloons in Pools:

If you planned for a summer wedding and you have an outdoor pool, dress it up with balloons! This concept is ideal for a contemporary poolside party with an open bar. Consider setting up a proposal balloons with lighting or candles to make sure it can shine bright when it gets dark.

Use Oversized Balloons:

For a dazzling event, place enormous light-up initial balloon, it could be at the entrance or the walls indoor.
Check out these amazing set up for more awesome balloon decoration ideas.
Sometimes it can be challenging to form your balloon décor into shapes and figures. To avoid common problems and challenges, we recommend you follow these balloon guide tips.  
Do Not Overdo It

: Sometimes we tend to go overboard with the decoration because we want to be creative. But balloon decoration is most effective when there is a balance in the colors and shapes when it is placed together.

Set Up Ahead of Time

: Balloons are easy to set up, but we still need some time for the preparations depending on how many balloons you want to use. However, don't set it up too early as it might blow up or loose air when the times come; setting up a few hours before the party is enough.

Do not Skip on Quality

: Balloon price is generally inexpensive, but we recommend choosing the quality ones so it can last throughout the event.
(Photo: Pure Wow)
As you might have notice, balloon decoration is a trend on every occasion, whether it's a wedding party, birthday party, graduation party, anniversary party, and any other celebrations. You might be wondering why it is a popular decorative tool. Here's why.
They make the best photo opportunities.

They are cheaper than flowers; flowers are great, but they are also very expensive to use as decorations.

Custom balloons can be easily used in any event.

They can last all day.

They only need air; whether by pumping manually or by a machine.
Looking for a fun and creative way to decorate your next event? Look no further than Andy Balloons! Our incredible balloon decorations and delivery have featured us in Best in Singapore ranking in the top 10. Let us help make your event truly unforgettable with our amazing balloons!
Contact us through WhatsApp at (+65) 8876 9977 for sales inquiries.
Visit our website at www.andyballoons.sg. for more information.