1st Birthday Party
(Photo: Andy Balloons)
1st Birthday Party marks the end of the child's first year after being brought out into the world. It is a time of joy and celebration as it is a memorable occasion for parents to reflect on a year of being proud parents filled with many loving and joyous moments, including all the sleepless nights, endless diaper changes, midnight crying, and continual feeding. Of course, the babies might not remember this party being celebrated for them, but parents could take pictures and record videos as a memory for the child to look back on in a few years. So, make it as unique as you can!
Here are some remarkable ways to celebrate the baby's first birthday. 
Create a Baby's 1st Birthday Collage: You can make a collage of pictures of your baby's firsts for memories. Capture the moment of their first cry, first laugh, first outfit, first toy, etc. Printing the pictures and putting them in a physical album is best. It will surely be a beautiful memory to look back at.


Create a Memory Quilt: You might not realize it, but babies grow up too fast, which means they will outgrow their clothes pretty quickly too. So, why not recycle their onesies into something memorable? Sew their old pieces together and make a quilt or a blanket as a precious remembrance they can keep till they grow old.



Finger and Footprints: Don't you just love their tiny little fingers and toes, they're just too cute to handle! Sometimes we just wish our baby would never grow up and remain our little baby. So, before those hands and feet grow larger, make a memory out of it by painting their fingers and toes on paper. You could even frame it on your wall.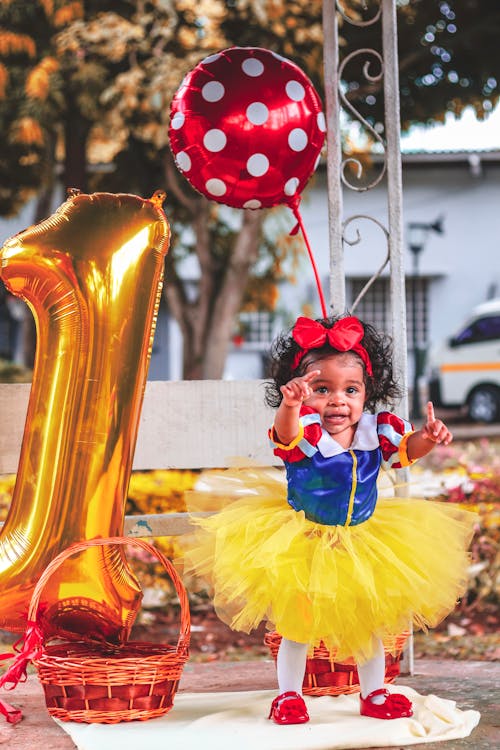 (Photo: Angeliz pty)
While planning for a birthday party, having a checklist is beneficial. It will ensure that everything is done before the party, and it will also reduce the stress when you are planning the event. It involves a lot of details, so a checklist helps you to stay organized with the preparations and expenses within your budget. Several things that should be on your birthday party checklist could be your child's outfits, accessories, food, the program rundown, shopping list, invites, venue, themes, and most importantly, birthday balloon decoration!
Have you ever wondered why balloons are a popular choice for birthday celebrations? That's because balloons are less expensive and available in most convenience stores. They come in different shapes and sizes. Party balloons' price varies according to the types you choose, such as helium, latex, foil, etc. They are generally cheaper than other decorative tools such as streamers and banners, confetti, fancy props, etc. Plus, you can create many stunning decorations with custom balloons such as balloons backdrop, balloon bouquets, bubble balloons, balloon ceilings, balloon arches, etc. Most people use balloon gifts as a centerpiece of the decoration. Check out these creative ideas for more inspiration.
Tips: People tend to celebrate the 1st birthday party at home for the baby's comfort & safety. So, invite guests with familiar faces so the baby can feel safe and not overwhelmed. Ensure they get enough naps before the party as well; we don't want them to cry when the party is just starting; after all, they are the main character of the event!
(Photo: Andy Balloons)
Fun Facts!
Black balloons represent feelings of depression, sadness, or grief. If you're decorating for a wedding, party, or other occasions, use mixed colors balloons like red, white, or green.

In Australia, White Balloon Day is held annually during National Child Protection Week by Bravehearts, a non-profit organization, on the first Friday in September. It is a symbol to support survivors of child sexual abuse and to encourage the communities to take necessary actions to prevent it.
First time planning a birthday celebration and need help? Reach out to AndyBalloons! We'll give you the perfect balloon guide to spice up any celebration. We were featured in Best in Singapore, being in the top 10 Best for Big Balloon Decors, so we got you all covered. AndyBalloons is just one call away!
Check out our previous decorations for the client's 1st Birthday Balloon Decoration here and our birthday packages here.
Contact us through WhatsApp at (+65) 8876 9977 for sales inquiries.
Visit our website at www.andyballoons.sg. for more information.